Near Death Scene
Nick has just been bitten and drained to the very last of his life by LaCroix. He lays at the edge of death and has to make the decision, whether to step into the light and die as a mortal, or return as a vampire with his lovely Janette for eternity...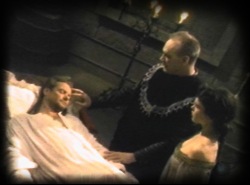 LaCroix: <feels Nick's forehead> "He's dying."
Janette: "He has gone to the light hasn't he, as I did?"
Nick is still between worlds trying to figure out what to do...
Janette: "What will you do if he decides to step into the light...to die as a mortal?"
LaCroix: <with an arrogant look> "He will return to me."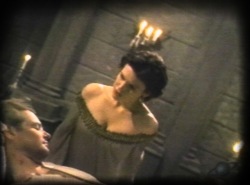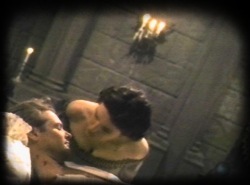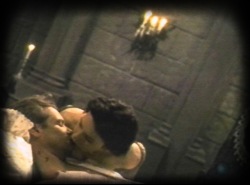 LaCroix steps away from Nick for a moment, as Janette comes toward her sleeping lover. She hovers above him then slowly draws near his face, touching her lips to his...
Janette: "Oh, I want him..."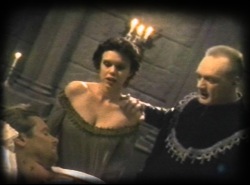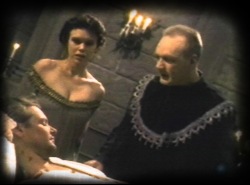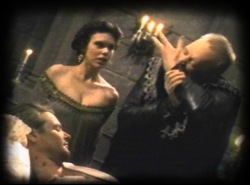 LaCroix: <places his hand on Janette's shoulder, as she backs away and he comes forward> "I hear your heart Nicholas, growing weaker with each beat. I have drained all but the last of your life from you." <he bites his wrist willingly>
Nick is still at the gateway to heaven. He is lost in decision of whether to go through or return to the calls of LaCroix. Finally, he makes his choice...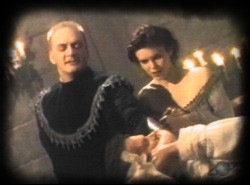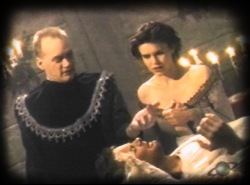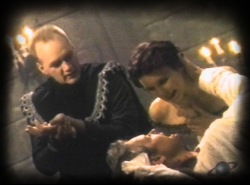 Nick awakes, eagerly sucking the blood from LaCroix's wrist. After some hungry feeding, LaCroix takes his wrist away from Nick's mouth. Nick licks his lips, then lays there with one hand held by Janette and the other in the air, breathing heavily with desire. He puts his hands around her neck, bringing her closer to him with his mouth wide open...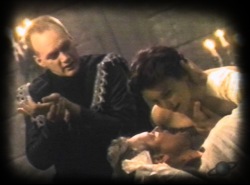 Janette: <whispering as she nears his face> "Welcome back Nichola..."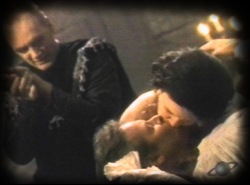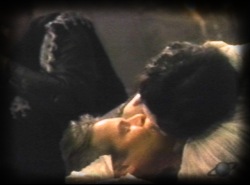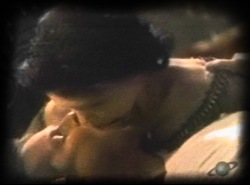 They come closer and closer, then kiss very strongly and passionately. Nick kisses Janette extremely deep and wraps his arm around her. She responds with the same passion and desire for her newly born vampire lover...
.......................................................................................................................
For more pictures from this scene click here to visit my "Near Death" archive.
Back to Immortal Beloved Page!