to Knight Vision, the largest and most updated Forever Knight site on the net. This site features wide ranges of multimedia, including 1,000's of images, movies, wallpaper, and much more! Knight Vision is updated frequently, so be sure to check back often. Follow the navigation menu to the left for your destination and see below for the most recent updates...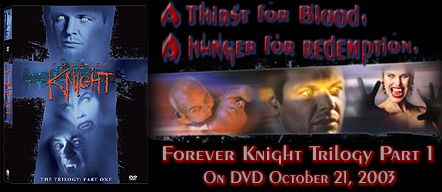 Version 6.0 - 2003
December 25, 2003 - Merry Christmas! I made a new Nick, LaCroix, and Janette music video called "Where Will You Go." It features their views on Nick attempting to become mortal and how he needs to face up to the fact that he's a vampire.
December 21, 2003 - There's a big update for "Blood line" (FK Fanlistings). 8 new fanlistings have been added: 3 relationship: Nick/Janette/LaCroix, Nick/Nat/LaCroix, and Nick/LaCroix (as rivals). There's also 5 new episode fanlistings: Only the Lonely, Hunted, A More Permanent Hell, Fever, and Ashes to Ashes. Check them out and join if you're a fan!
December 15, 2003 - I made a new Nick music video called "Tower." It features his loneliness and anxiety about the past. There's also some new additions on the "Upcoming Music Videos" page.
December 11, 2003 - I made a new Nick and Lovers music video called "Principles of Lust - Everlasting Lust Mix." It features Nick and his many lovers engaged in unbridled passion. I also added a new very steamy Nick and Janette manipulation called "In the Heat of the Night" (the source images are from 2 Calvin Klein ads)
December 9, 2003 - I added 88 DVD captures from "Dracula: The Series" (images 93-180) and 48 DVD captures from "Street Legal" to the GWD Image Archives.
December 6, 2003 - Surprise! I made a new Nick and Natalie music video called "My Immortal." It features their tragic relationship and doomed love. This is my first attempt at a video using a slow song.
December 3, 2003 - I added 4 movie-clips from season 1 that feature alternate scenes from the CBS version that were not even on the DVD set. The cut scenes are from "Dance by the Light of the Moon," "I Will Repay," and "Dead Issue."
December 1, 2003 - I made a new Nick and Janette music video called "Tears From the Moon." It features the greater depths of their relationship and lots of new special effects.
November 29, 2003 - I added 105 DVD captures from "Dying to Know You " to the Image Archives.
November 25, 2003 - I created a new Nick and Lovers music video called "Voyageur." It features Nick entangled in the virtual-reality vampire world in "Games Vampires Play."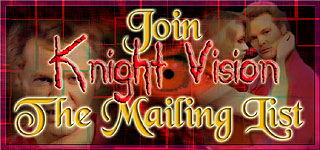 Site & Graphics Created By: Kristin Harris
Forever Knight is a registered trademark of Tristar/Sony Television Incorporated. This is a fan site and makes no profit. No copyright infringement is intended.