to Knight Vision, the largest and most updated Forever Knight site on the net. This site features wide ranges of multimedia, including 1,000's of images, movies, wallpaper, and much more! Knight Vision is updated frequently, so be sure to check back often. Follow the navigation menu to the left for your destination and see below for the most recent updates...

*Version 7: 2004~*
December 28, 2004 - I made a new Nick & Lovers music video called "Pornstar." (Please ignore the title. LOL! The song is quite good and clean) The video features the lustful relationship between Nick and Ann from "Dance by the Light of the Moon," including both the violent and sensual aspects.
December 17, 2004 - I uploaded 29 glamour portraits of me in my special "Janette," Jean Paul Gaultier, Raven dress. It's the original dress worn by Janette in 2 episodes and the season 1 publicity photos. Alma also wears it in For I Have Sinned. I recently acquired it through Deborah Duchene's fanclub owner, who could no longer wear it (Deb had given it to her as a gift). It's truly amazing what you can come across online. :)
Click here to see my portraits along with some images of Janette and Alma in the dress.
December 14, 2004 - I made a special Lestat & Louis crossover video for the movies Queen of the Damned and Interview with the Vampire. It features their strained, yet seductive, relationship. This video also consists of video manipulations aka new scenes I created. Check it out at my "Blood Ties" site below or through the "Other Videos" section:

December 10, 2004 - I made a new Nick music video called "Immortal." It features Nick unhappy about his eternal life as a vampire and the realization that he truly will never die.
DivX Reminder: This video is in DivX format. Download the free codec here. To disable the logo, go to the DivX directory under your Program Files and then click the configuration utility - quality settings - Disable Logo. Questions? Email me.
December 8, 2004 - I won 3 music video awards for "System" and 3 awards for "Wings of Steel!" Thank you Surreal Awards!
December 2, 2004 - I opened a brand-new forum to discuss our favorite show! Click the banner above to check it out! I also added 18 avatars to the Misc. Stuff section. These can be used at the new forum as well.
November 17, 2004 - I made a special new music video. If Forever Knight were truly coming to a theater near you this fall, here's what a movie trailer might look like. Check it out in my "Special Music Videos" section.
November 5, 2004 - I made a new "La Femme Nikita" music video called "Going Under." It features Michael and Nikita's explosive relationship and their feeble attempts to deny their feelings for each other. You can find it under "Other Videos."
October 31, 2004 - Happy Halloween! I made a new Nick and Janette wallpaper called "Dancing the Night Away."
In addition, I made a new QOTD music video called "System" on my Blood Ties site. It focuses on Lestat's inner struggles between the good and evil of his vampire nature. Like "Forsaken," this video also includes singing scenes from the official music video and matches the dark gothic style. I think this video is one of my best yet!
October 28, 2004 - I added cover art and menu screens for the 2nd season DVDs to the "Save FK" section. There's also a list of sites you can preorder them from.
October 22, 2004 - I made a new Nick wallpaper called "Metamorphosis."
October 18, 2004 - I added & replaced 28 cast photos with high-quality slide scans (mostly from Near Death). They consist of the following:
Nick photos: 17, 32, 33, 34, 64, 77-81; Nick & Janette photos: 1, 10, 11; Nick & LaCroix: 9, 10; Nick & Nat photo 2; Group Photos: Nicksc5, 6, Nicknatsc, Nickjanlac1-8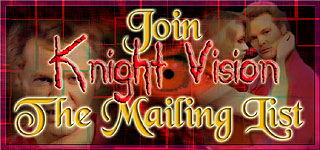 Site & Graphics Created By: Kristin Harris
Forever Knight is a registered trademark of Tristar/Sony Television Incorporated. This is a fan site and makes no profit. No copyright infringement is intended.