Welcome to Knight Vision, the largest and most updated Forever Knight site on the net. This site features wide ranges of multimedia, including 1,000's of images, movies, wallpaper, and much more! Knight Vision is updated frequently, so be sure to check back often. Select a roman numeral from the top for your destination and see below for the most recent updates...
Version 8.0 - 2005
August 23, 2005 - Several of my music videos are competing in the "Best of the Best" Butchered Video awards! If you'd like to vote for my videos you can do so here (so far my FK trailer and Crazy Boy videos are winning).
August 21, 2005 - I made a new Nick wallpaper called Enigmatic. You can find it here.
August 13, 2005 - I added some avatars to the Misc Stuff section.
July 28, 2005 - I made a music video for the action movie: Equilibrium (starring Christian Bale). Living in a cold, futuristic world where emotions are forbidden and kept dormant through the use of drugs, John Preston's feelings are awakened after missing his usual dose. This video features Preston's conquest to overthrow the regime and come to term with his own feelings. You can find it in the Other Videos section.
July 20, 2005 - Knightmuzic just made an official fanlisting dedicated to me and my websites. I'm so very touched and flattered by this sentiment! If you'd like to show you're a fan of my websites and creations, you can visit the fanlisting here:

July 18, 2005 - I made a new FK music video called "A Perfect Lie." This is an "If Looks Could Kill" focused video about the Baroness character and other women who fantasize about staying eternally beautiful (in Misc section). Note: To save bandwidth I have uploaded the video to a temporary 2nd source here. I also won several more video awards, including 4 for my new "Crazy Boy" (American Psycho) music video.
July 12, 2005 - After seeing "Batman Begins" I have become an official Christian Bale fan. Not only is he drop dead gorgeous, but immensely talented, hence this new music video which is very different from my usual subjects. This is a video for "American Psycho" and it explores the psychotic mind of Patrick Bateman. He may wear a mask of sanity during the day, but at night his inner beast emerges. You can find it in the "Other Videos" section.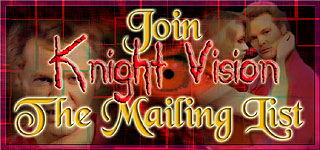 Site & Graphics Created By: Kristin Harris
Forever Knight is a registered trademark of Tristar/Sony Television Incorporated. This is a fan site and makes no profit. No copyright infringement is intended.