Welcome to Knight Vision, the largest and most updated Forever Knight site on the net. This site features wide ranges of multimedia, including 1,000's of images, original music videos, bloopers, wallpaper, and much more! Knight Vision has been running strong for almost 7 years and is updated frequently, so be sure to check back often.
Version 9.0 - 2006
Forever Knight Trilogy Part 3 DVD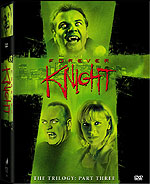 Merry Christmas from Knight Vision! May all of your dreams come true! Click here for a card I made.
I made a new Nick wallpaper called Beast Within.
I added 2 professional reviews regarding my music videos on the season 3 dvd set. You can read them here.
Also, for those interested I made a new music video for the 1994 movie - Wolf (starring Jack Nicholson and Michelle Pfeiffer). You can find it here.
Yay! Today is my birthday, but I have a special gift for you all. I made a new Nick music video entitled "In a Dark Place." It explores Nick's pain, remorse, and guilt as he remembers the sins of his vampiric past. Searching for salvation, he struggles to emerge from his world of darkness. The video also reveals those who Nick reaches out to the most in his time of need. (also includes some scenes with Janette, Natalie, and LaCroix) I'm very proud of this one. The music (by Gary Numan) truly tells Nick's story. Click here to watch it.
If you guys would like to send your own gifts in the form of video reviews, that would make this birthday girl very happy. :) You can email me at kris1228@earthlink.net
I made a new Nick and LaCroix music video entitled "Slave." It features the multifaceted, obsessive relationship between them. This video also includes special video manipulations I made. (note: implied slash)
I updated the links to buy season 3 online in the Merchandise section. I also added a new manipulated graphic of Nick and I to the About Me section just for fun.
In celebration of FK's Season 3 release on DVD today, I made a special new music video called Lose Control.This video explores the darker, lustful, side of Nick and Janette's relationship as they completely possess one another in ecstasy. Yet, the playfulness between them still peaks through the darkness. This video also includes special video manipulations I made using footage from Deborah Duchene's role in Counterstrike.
Three of my music videos are featured on Sony's FK DVD release today. I'd love to hear your thoughts on them. Please email me if you'd like to send feedback.
I added some new links to the Merchandise section where you can order the upcoming FK Season 3 DVD set (coming out Oct. 3rd).
There is a brand-new section on Knight Vision! In the Movie Archives you will now find rare cast interviews that span the entire course of Forever Knight's three season run. These feature Geraint Wyn Davies, Nigel Bennett, John Kapelos, Deborah Duchene, Catherine Disher, and more. Many of the interviews also contain behind the scenes footage. Enjoy and if you'd like to chat with other fans about these, please join my forum or mailing list.
I updated the links section discarding old links and adding a few new ones.
Site & Graphics Created By: Kristin Harris


Forever Knight is a registered trademark of Tristar/Sony Television Incorporated. This is a fan site and makes no profit. No copyright infringement is intended.