Below are the main sources I know for many Forever Knight/Geraint Wyn Davies related things. If you know of other places with unique items, please let me know.
Forever Knight DVD Trilogy Part 1 - Now Available
Pre-Order Information (Note: While online orders are important, so are purchases from a local store like "Best Buy." If you're planning to buy 2 sets, pick an online store and a local store):
Buy from Amazon.com ($55.96)
Buy from Barnes & Noble ($59.96)
Buy from Best Buy ($69.99)
Buy from DVD Empire ($63.96)
Buy from DVD Planet ($55.97)
Buy from Buy.com ($59.95)
Buy from Deep Discount DVDs ($56.26)
Buy from Video Universe ($55.97)
Buy from DV Depot - Ships WorldWide - ($66.29)
Buy from Amazon.ca - Canada - ($74.89)
Buy from Enterprises DVD - UK - (£49.99)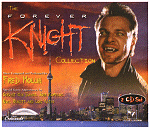 Just released a 2002 box set of Forever Knight's 2 soundtracks! They also offer both soundtracks individually.
Has lots of Forever Knight (type it in the search field box) items:

They have the two FK CD's and the FK books, These Our Revels & Intimations of Mortality.
Forever Knight is also on this special vampire documentary: Vampires Thirst for the Truth. It features Geraint and Nigel interviews, Nick, LaCroix, and more vamping mixed with other vampires, along with a special sword fight scene cut from "Dead of Night." It has a special spot also dedicated to Forever Knight.

They also have many Geraint Wyn Davies (type it in the search field box) items:

They have his audio books and Videos/DVD's of many of his popular movies, such as Bury Me in Niagara, Hush Little Baby, and Dancing in the Dark.

They also have Auctions, often with FK/GWD related things.
A great source for awesome FK 8x10 photos! They currently carry almost 50 photos with prices of $6.00 for color & $4.00 for black and white and include thumbnails on their site.
Jerry Olinger's Movie Material Store
Has TONS (about 130) of Forever Knight photos, with color shots for $5.50! To order you must send your snail mail address to them via e-mail or the address on their site. You'll then get a description list of the photos and the order form.
Has about 50 FK photos and stills both black and white and color, that can be from wallet size to 16x20 inches. It has a listing with descriptions, but no thumbnails.
The Movie Market (in US & UK)

Has 12 FK/GWD photos, plus a photo set for $25.00. The photos can be enlarged from 8x10 to 16x20 ($17 for color and $13 for black and white) or even 20x24 ($32). Type in "Forever Knight" and "G W Davies" in their search box, for a listing of the photos.
Has 13 Forever Knight photos as 8x10's for $5 each, and they can also do high-quality poster enlargements, specially. Thumbnails are included on their site.
G2 Creations

This place can make you a really cool mousepad from your favorite picture, or choose from 100's of others. It already has one for Geraint Wyn Davies and one for Forever Knight under Celebrities, TV Stars mousepads.
The top auction site on the planet! It often has many cool and rare Forever Knight and Geraint Wyn Davies items to bid on.