You've just entered the most up-to-date Save FK page on the net. Below are many events occurring where you can help support the Knight. Every Forever Knight fan wants new episodes with original cast and of course more merchandise right? Well, you've come to the right place to see what you can do to get it! Check out the current events below to see what you can do for our Knight and please remember if we want results we all must participate! Check this site often for the latest news.
Current Projects and Events
Forever Knight Radio Show (from Sony/Sci-fi):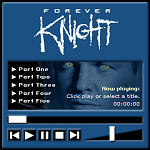 I received this news from Sony (Sept. 19th): I have some very cool news for some very loyal fans of the hit show Forever Knight. In honor of this long awaited release and as a way to say thank you to all of the supportive fans Forever Knight's star, Geraint Wyn Davies (Detective Nick Knight/Nicholas de Brabant) & the show's creator, James D. Parriot will answer your audiences questions about their groundbreaking show.
Fans asked their questions and now you can listen to the radio show online. I also heard that it played on Halloween through ABC Radio Networks.
Forever Knight: The Radio Show is now online! Click here to tune in.
Very exciting news everyone!
Forever Knight Trilogy Pt 1 (Season 1 DVD Set):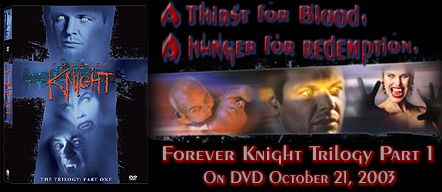 Congratulations everyone! We've finally done it! Forever Knight (Season 1) is officially coming to DVD October 21, 2003 at a price of $79.95 retail ($55-$59 on sale). The DVD set is entitled: "Forever Knight Trilogy Part 1." Columbia TriStar already has plans to release the other two seasons if this set sells well. I encourage everyone to buy *at least* 1 set (I am buying 2 for myself, one for viewing, one for back-up). Spread the word!
Click here to read the press release and click here to watch the DVD commercial.
Pictures of the Front/Back Cover:
Zoom in on the Graphics (from Back Cover):
Large Picture of the 1st Menu Screen: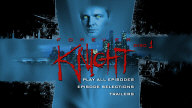 Click here to view the other Menu Designs.
DVD Release Info:
Title: Forever Knight Trilogy Pt 1
Studio: Columbia TriStar
Release Date: 10.21.03
Number of Discs: 5
Running Time: 1046 min
Rating: NR
Retail Price: $79.95 ($55-$59 on sale)

Video & Audio Specs:
Video: 1.33:1 Fullscreen
Audio: English Dolby Digital 2.0

Supplements:
Trailers
Pre-Order Information (Note: While online orders are important, so are purchases from a local store like "Best Buy." If you're planning to buy 2 sets, pick an online store and a local store):
Buy from Amazon.com ($55.96)
Buy from Barnes & Noble ($59.96)
Buy from Best Buy ($69.99)
Buy from DVD Empire ($63.96)
Buy from DVD Planet ($55.97)
Buy from Buy.com ($59.95)
Buy from Deep Discount DVDs ($56.26)
Buy from Video Universe ($55.97)
Buy from DV Depot - Ships WorldWide - ($66.29)
Buy from Amazon.ca - Canada - ($84.89)
Buy from Enterprises DVD - UK - (£49.99)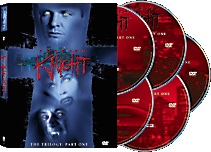 TV Shows on DVD: Getting FK on DVD:
This place actually specializes in getting TV shows on DVD and it seems it has helped us to get our show released! Here's a little info about the site:

The purpose of the site is to get more TV shows released on DVD.
How do they plan to pull it off? Well, they plan on having a working relationship with the studios. The site has users who come and register on it (for free) and show interest in their favorite TV shows. They then let the studios know how many people want to see the shows they own released on DVD, and how they want them (season sets, best of, or individual episodes). Once the studios can see the interest in their product they will strongly consider releasing more TV product on DVD.

This site has already helped lots of other shows get to DVD and Forever Knight can be found on their voting list. Here's the current stats:

Voting Results

Overall Rank: 10th
Season Set: 1011 (98%)
Best of: 270 (26%)
Individual Episodes: 357 (35%)
Total Number of Voters: 1031

Go to this address and register to vote for Forever Knight on DVD:

http://www.tvshowsondvd.com/index.cfm
Sci-fi Channel E-mail/Phone/Snail Mail Blitz:
As you all know, Sci-fi returned Forever Knight to their line-up April 1, 2002 and, this time, only aired the show 1 year. Sci-fi was giving people a chance to discover Forever Knight and also reawaken old fans, but they have canceled it again, at least for now. The fans must take action on this. It's time to let Sci-fi know now, more than ever, we are truly grateful for their airings of Forever Knight. Request *politely* that Sci-fi air Forever Knight again soon and while you're at it, mention your interest for a return movie with original cast as well.
Write to: program@www.scifi.com and/or feedback@www.scifi.com
Also, e-mail scifiweekly@scifi.com to express your thoughts and have a chance to appear in their weekly newsletter read by 1,000's!

I have also found Sci-fi's phone #, in which you can actually talk to real people. Here is the #:

(212)-413-5000
Snail Mail Addresses (very important!):
Bonnie Hammer
President of Sci-fi Programming
Sci-fi Channel
1230 Avenue Of the Americas
New York, NY 10020
Thomas Vitale
Senior Vice President of Acquisitions,
Scheduling, and Program Planning
The Sci-Fi Channel
1230 Sixth Avenue
New York, NY 10020-1513

I hope you all will participate in this. Remember, it takes a large fanbase and hard work to get what we want. The Forever Knight fans must show Sci-fi that we exist, appreciate what they have done, and that we still would love more of this terrific series. If you are international, please still e-mail Sci-fi, because if we are granted a return movie, I am sure you will have a way to see it also. If any of you get decent responses or important news please e-mail me at: kris1228@earthlink.net
Home Theater Forum - FK on DVD:
Ever wonder just how important Home Theater Forum really is? Consider this: Feedback from HTF members has resulted in studios deciding to commit certain titles to DVD! So, post your requests to the studios here."
This is a great opportunity! I have started a thread addressing "Columbia Tri-star" to release Forever Knight on DVD. Please add all of your names and comments on what you'd like to see on the FK DVDs to this post here.
Before posting you must register here.
Just follow the quick and easy steps. It won't even take 5 min. After this you must wait for their approval e-mail and then you can add your post to my thread. It would be awesome if everyone could take the little bit of time to add their names. With enough people adding their request, maybe Columbia Tri-star will notice.
Kickstart the Knight's Breaking News:
It seems that the ads we have been running all this time in the trade papers have gotten attention!

Kickstart The Knight has news from a reliable source that Nick Gray, producer of all three seasons of Forever Knight, got a phone recently from Columbia/Tri-Star. They were asking him about the ads they have been seeing in Variety and Hollywood Reporter. Here's a direct quote... "Maybe we should start paying attention." That is exactly what Nick says the Columbia/Tri-Star caller stated. This was told to our source by Mr. Gray himself.

We are all very encouraged by this! Because of this, it's more important than ever to keep doing what we have done all this time. We need to keep the momentum going on the ads--to place more of them, more frequently. However, at the moment KtK does not have enough items to hold the kind of auction that would bring in the amount of funds needed to place ads, that would continue to bring us the attention we need.
In addition to continuing to do what we've been doing all along--writing letters to TPTB--there are two ways you can help Kickstart the Knight now:
Go here to find out:



We hope this news has made you all as excited as we are.
Forever Knight on Space Channel in Canada: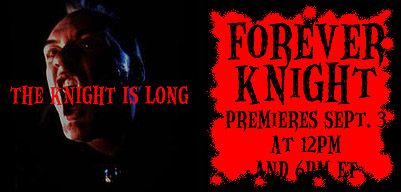 Forever Knight premiered on SPACE Tuesday September 3rd 2002 and airs at 9:00 am ET on this Canadian channel. Visit their site here or by clicking the the banner above (taken from their cool flash sequence). Feel free to also use it to help spread the word.
Thank Space at this address and also take the time to request new FK:
Letter Writing Campaign: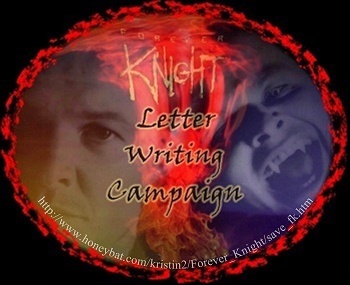 The best thing you can do is write, write, write to the powers that be!! Send letters, lots of letters!! This is the only way our voices can be heard, so get a pen and paper and get ready to start working those fingers. If you don't have the time to write your own, scroll down for some sample letters. Please show your support by linking back to this page with the above banner... Here's the addresses, plus NEW addresses to the sponsors that help pay for FK's broadcast on Sci-fi:

*Sci-fi Channel (keep FK on Air and possible NEW movies)*

Bonnie Hammer
President of Sci-fi Programming
Sci-fi Channel
1230 Avenue Of the Americas
New York, NY 10020
Thomas Vitale
Senior Vice President of Acquisitions,
Scheduling, and Program Planning
The Sci-Fi Channel
1230 Sixth Avenue
New York, NY 10020-1513
*Tristar/Sony (owners of Forever Knight: license merchandise, movies, etc..)*
Click here for a feedback form on their website also.
Mel Harris
Chief Operating Officer-Television
Sony Pictures Entertainment
10202 W. Washington Blvd.
Culver City,CA 90232
John Calley, CEO
Ken Lemberger, Co-President
Sony Pictures Entertainment
Tri-Star Bldg.
10102 West Washington Blvd.
Culver City, CA 90232
SPE – Columbia Pictures
550 Madison Avenue
New York City, NY 10022
(212) 833-8500

Sony Pictures Entertainment
150 Roger Avenue
Inwood, NY 11096
(718) 868-5800
*USA Networks*
Stephen Chao
USA Networks
2049 Century Park E., Ste., 2550
Los Angeles,CA 90067

Mr. Jean Marie Messier, CEO
Vivendi/Universal Corp.
375 Park Avenue
New York, NY 10152-0192

*For more general FK merchandise*

Marci Gordon
Sony Product Development
TriStar Building, 3rd Fl.
10102 W. Washington Blvd.
Culver City, CA 90232

800-Trekker
P.O. Box 13131
Reading, PA 19612-3131

*For more FK books*

Grace Ressler
Publishing Manager
Sony Signatures
TriStar Building, 3rd Fl.
10202 W. Washington Blvd.
Culver City, CA 90232

Boulevard Books
The Berkley Publishing Group
200 Madison Avenue
New York, NY 10016
Berkley Publishing Group
Susan Petersen Kennedy, President
David Shanks, CEO
Penguin Putman, Inc
375 Hudson Street
New York City, NY 10014

*For FK on video/DVD*
Columbia Tri-Star Home Video
2800 South River Rd
Des Plaines, IL 60018
(847) 699-6340

Columbia Tri-Star Home Video
22W645 Armitage Avenue
Glen Ellyn, IL 60137
(630) 469-0411
Columbia Tri-Star Home Video
2722 Kenwood Drive
Duluth, GA 30096
(770) 813-0067

*For fans in the U.K.*

Customer Relations Department
British Sky Broadcasting PLC
Subscriber Management Centre
P.O. Box 43
Livingston
West Lothion
EH54 7DD
SCOTLAND

The Sci Fi Channel
77 Charlotte Street
London
W1P 2DD
ENGLAND

If you need sample letters or don't have time to write just use one of the letters I wrote below...
Dear (one of the powers that be): I am an addicted fan of the show "FOREVER KNIGHT". I have been a fan for a long time and couldn't help but notice the lack of merchandise and especially no episodes on tape or DVD. I do want to thank you though for the CDs and books. I would love to see more merchandise. I'd be more than willing to buy merchandise if there was going to be more made in the future. We'd love to see the series "emerge from it's world of darkness." Please not only keep airing it, but make NEW episodes or even a movie! I want to thank you for reading this and hope you will consider bringing the knight back for not only me, but also many other Forever Knight Fans out there.
Sincerely, __________
----------------------------------------------------------------------------------------------
Sci-Fi Network: Thank you for airing Forever Knight in the past! We'd love to see the series "emerge from it's world of darkness." Please not only return it to the airwaves, but make NEW episodes or even a movie! I want to thank you for reading this and hope you will consider bringing the knight back for not only me, but also many other Forever Knight Fans out there.
Sincerely, __________
The Return of Forever Knight Petition:
Susan Field will be sending this petition every month to Columbia Tri-Star, USA and Sci-fi asking for new movies, episodes, and merchandise for Forever Knight. Please sign this and spread the word about it. Also post the banner I made below on your pages. Click it for more info and to see the petition.
Forever Knight on DVD Petition:
This is an online petition: "Get TV Shows on DVD!" Sign it to get FK on DVD! Every signature helps!

Go Here: http://www.PetitionOnline.com/dvdtv/
The Forever Knight Video/DVD Petition:
Make sure you all have signed the main petition to get FK released on Video/DVD. Currently there is over 2,000 signatures, so be sure you've signed! A copy of this can be attached to the letters you send. Click HERE to sign!
Past Projects and Events
CD Soundtrack Box Set of Forever Knight: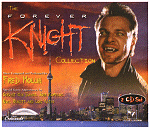 GNP/Crescendo Records just released a Box Set of both Forever Knight soundtracks for 2002! To order visit their site below:

http://gnpcrescendo.com/index01.html

Quoting from their site:

"Now back on the Sci-Fi Channel, FOREVER KNIGHT continues to have a very strong fan base. Now together for the very first time are two volumes of the best music from the hit series by Fred Mollin as well as songs by Lori Yates and Molly Johnson. Special guest artists on both volumes are series stars Geraint Wyn Davies, John Kapelos and Nigel Bennett."

While this may not be actual new merchandise, it's very close. I already have both volumes, but I am ordering this neat looking box set for backups and to show my support. I hope you guys will too. Who knows... maybe this will lead to future merchandise like a 3rd soundtrack or those DVDs we all want.
Latest KTK Ad (May 2002):
Below is the latest Ad that appeared in the May 14-20th issue of "The Hollywood Reporter" on page 30 at the bottom half of the page. You can obtain a copy at your local Barnes and Nobles and other bookstores. This issue is also available online at: http://www.hollywoodreporter.com/
Look below for a picture of the ad...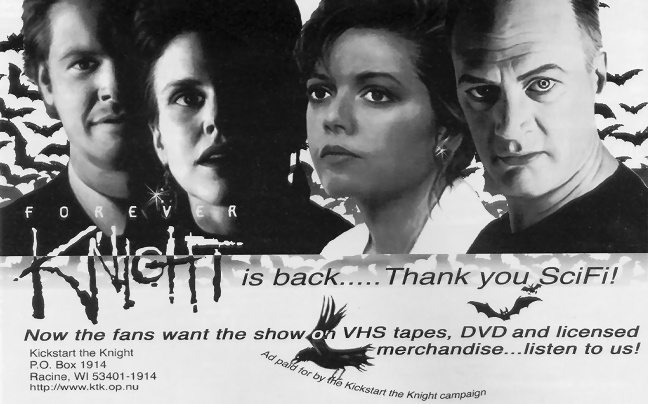 Forever Knight's Return to Sci-fi (2002):

Forever Knight fans across the USA satisfied their every immortal desire with SCI FI's 12-hour Forever Knight marathon April 1st, 2002.

Please thank Sci-fi by writing this address: program@www.scifi.com and/or feedback@www.scifi.com
There is also a new bboard post started at Sci-fi's site to specifically thank them for returning Forever Knight. This is also an opportunity to request that return movie with original cast:
http://bboard.scifi.com/bboard/browse.cgi/1/5/2660
Feel free to use the banner above or Sci-fi's to spread the word.

KTK Ad (Sept 2001):
Below is the Ad that appeared in the September 27th issue of Variety, and was the only ad that large (approximately 8"x 8 2/3"... they called it a half-page, but it appeared more like a three-quarters page) in the whole issue! For information on how to order a copy of the issue directly from Variety contact Variety's customer service at variety@espcomp.com or call (888)674-5656.
NEWS: This one and other Variety ads *have* been noticed by Columbia Tristar (verified in the upper announcement)!
Look below for a picture of the ad...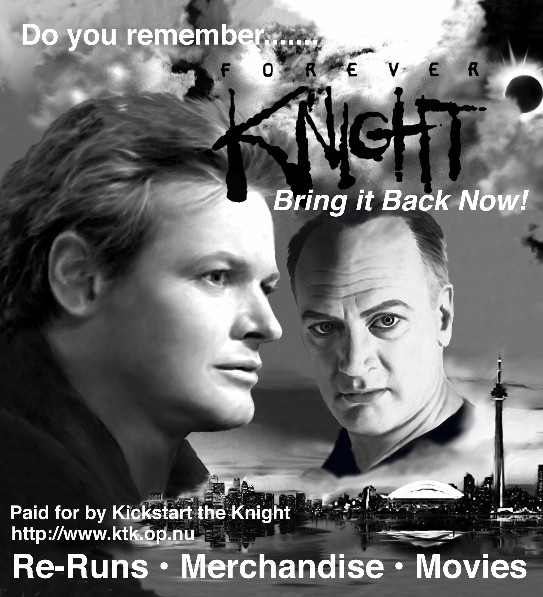 Bamboo Plant Project:
KickStart The Knight sent Bonnie Hammer at the Sci-fi Channel a very nice gift wrapped Bamboo Plant on the fans behalf with emails asking that FK be restored to the line-up last fall...
Here is some pictures of the plant Ms. Hammer will get and the box it went in, along with the 60+ e-mails people wrote: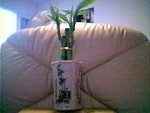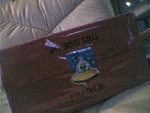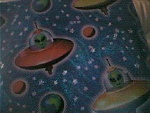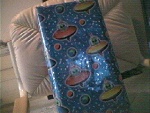 Thanks ahead of time to everyone who has participated in this...and please remember to keep E-mailing Sci-fi online!!
KtK Full Page AD (Dec. 2000):
*Kickstart The Knight* had our very first FULL PAGE Forever Knight Ad in the December 12-17 2000 issue of "The Hollywood Reporter"!
The December 12th through December 17th issue....Page 49 on the right side page. See ad below...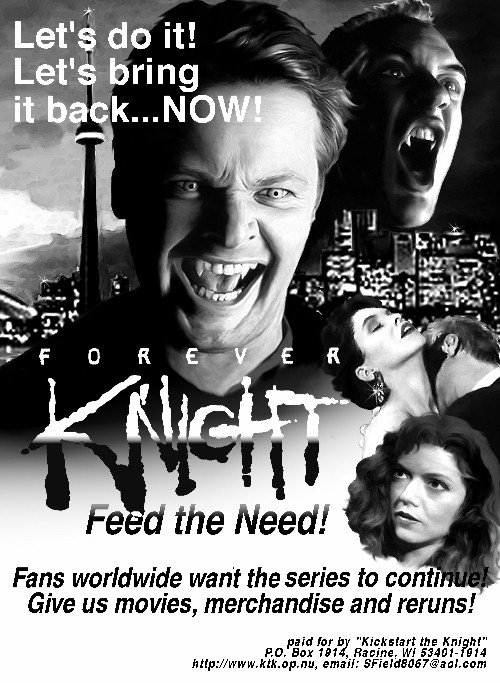 KtK backed this Ad up with a special X-mas package sent to Bonnie Hammer on your behalf.
Fangs for the Knight! A Halloween 2000 Project: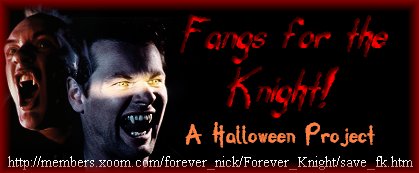 Halloween of 2000, Kickstart The Knight did something special to encourage The Powers That Be to provide us all with not only a return of the original series of FK to the schedule, but also renew it as a series with the original cast and/or return it as one or more made-for-television movies, and for more merchandise.

We purchased vampire fangs, in an assortment of neon colors. We collected your emails and letters and attached them to the fangs and mailed the whole lot in coffin shaped boxes to TPTB.

Here are pictures of the fangs and of the packages we sent! Thanks to all who sent their messages to be included with the fangs!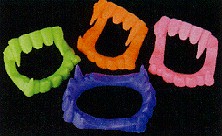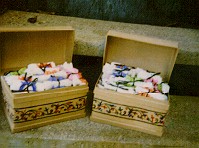 **The Fans asking for Forever Knight!!**... A BBoard Letter Post:
This is a post on the Sci-fi bboard asking for the return of Forever Knight. I would like to see ALL of you add your names and letters about what you want and more. We ALL would like to see it stay on Sci-fi wouldn't we? Along with more merchandise and return movies?
The post can be found here:

http://www.scifi.com/bboard/browse.cgi/1/5/1686

Please add your name and letters, and also help to spread the word about this.
Those of you that signed also send copies of your comments to feedback@www.scifi.com
Early KTK AD (March 1999):
This ad appeared in the Hollywood Reporter in March, 1999. It's one of the very first ones with the character's pictures on it. See picture below...