Welcome to Knight Vision, the largest and most updated Forever Knight site on the net. This site features wide ranges of multimedia, including 1,000's of images, original music videos, bloopers, wallpaper, and much more! Knight Vision has been running strong for 10 years and is updated frequently, so be sure to check back often.
Forever Knight Trilogy Part 3 DVD: features 3 of my music videos!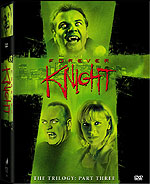 Jeannie Musick has a fantastic new interview with Geraint Wyn Davies on her website. You can read it here.
Some very funny FK promos from ChillerTV are up on youtube. Geraint Wyn Davies hosted their FK marathon last week and did special voiceovers for these promos. You can check them out on youtube.
A new Geraint Wyn Davies interview is up at ScifiTvZone. Chiller is also having another FK marathon starting November 24th.
I added a new Nick and Janette wallpaper called "Crazy Love."
I also just realized this is the 10 year anniversary of Knight Vision! I can't believe it's been that long! I am sorry updates have been so sparse lately, but I will do my best to keep the site alive for many more years to come.
ChillerTV is having a Forever Knight marathon on labor day. Check their schedule here for details.
I have a new Youtube Channel here where I will be posting some of my favorite FK videos and other stuff I've done. http://www.youtube.com/user/knightvision1228
I have some cool news to share. ASY9, the talented artist I used in my Heroine video about the love triangle between Nick, Janette, and Natalie, is featuring my video on their myspace page. Balligomingo is also featuring my Nick and Janette Lust video on their page.
Hope everyone has a happy new year!
I added a link to Blood Line featuring Melissa's new Dangerous Minds fanlisting dedicated to the relationship between Natalie and LaCroix. The fanlisting features some beautiful graphics and the title was inspired by my own Nat & LaCroix music video.
On another note, for those of you interested in my work outside of FK, I created a new official music video for UK artist Seth Lakeman. Learn more at my Innovation Portfolio.
There is a new petition to get Forever Knight to air on Chiller tv. Visit the Save FK section to learn more.
I made a new crossover music video called Halo featuring the vampire tv series - Moonlight, Forever Knight, and Blood Ties. It explores both the deadly lust and sensuality of vampires. Awesome music: Halo by Gary Numan (from Jagged 2006 CD). Download in highquality here.
Site & Graphics Created By: Kristin Harris


Forever Knight is a registered trademark of Tristar/Sony Television Incorporated. This is a fan site and makes no profit. No copyright infringement is intended.